Your local pharmacy
Pansion apteekki
Pernontie 20,
20240 Turku
Opening hours
Monday-Friday: 9 – 17
Saturday and Sunday closed
(incl. public holidays)

---
Pansion Apteekki is your local multifaceted pharmacy. Our skilled personnel help you when you have questions about medicines. Self-care products, natural products and cosmetics are available also.
We have good connections to the center of Turku and parking places in front of the pharmacy. We can be reached by Föli buses 42, 220 and 221.
We are open from Monday to Friday between 9 am. to 5 pm.
Welcome!​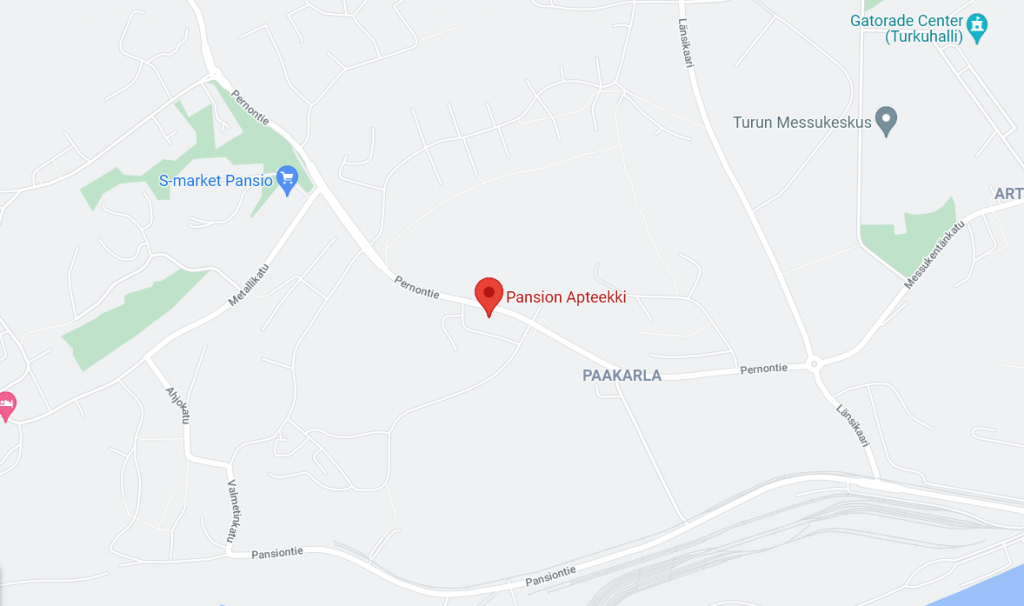 Facebook
Terveydeksi.fi
Suosituksia isommilla päiväannoksilla tai erittäin suurilla kerta-annoksilla d-vitamiinia ei havaittu haittavaikutuksia lapsille tuoreessa tutkimuksessa.

Unettomuutta kannattaa hoitaa ajoissa. Pitkäaikaisilla unettomuusoireilla ja heikentyneellä kognitiolla on selkeä yhteys, kertoo tuore suomalaistutkimus.

Tuoreen tutkimuksen mukaan painon seurannan sijaan tärkeämpää olisi huolehtia iäkkäiden lihaskunnosta ja fyysisestä toimintakyvystä.

Tulehdusten aiheuttajaksi epäillään adenovirusinfektiota. Suomessa ei ole toistaiseksi havaittu viitteitä lasten akuuttien maksatulehdusten lisääntymisestä.
Kanta
In My Kanta Pages you can see your own
health records and prescriptions.
My Kanta Pages »
Duodecim
Duodecim – medical information for the
general public.
Duodecim »