Your local pharmacy
Pansion apteekki
Pernontie 20,
20240 Turku
Opening hours
Monday-Friday: 9 – 17
Saturday and Sunday closed
(incl. public holidays)

---
Pansion Apteekki is your local multifaceted pharmacy. Our skilled personnel help you when you have questions about medicines. Self-care products, natural products and cosmetics are available also.
We have good connections to the center of Turku and parking places in front of the pharmacy. We can be reached by Föli buses 42, 220 and 221.
We are open from Monday to Friday between 9 am. to 5 pm.
Welcome!​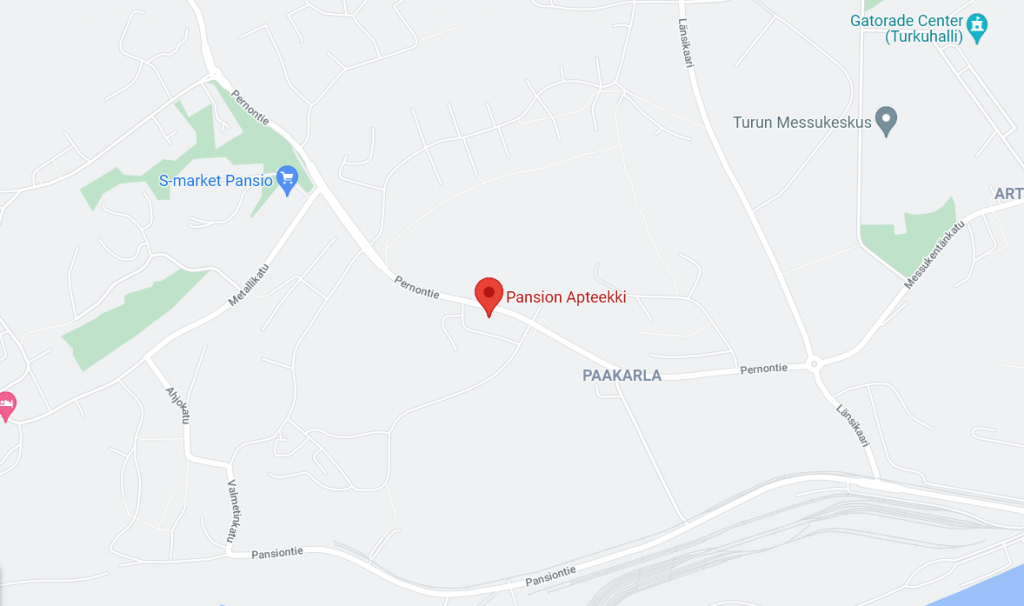 Facebook
Terveydeksi.fi
THL päivitti ohjeistustaan koronatestauksesta ja karanteeneista alueilla, joissa tartunnanjäljitys ei enää omikronmuunnoksen vuoksi toimi. Paikallisia ohjeita tulee kuitenkin edelleen noudattaa.

Raskausdiabeteksen riski on noin 60 prosenttia suurempi, jos nainen sairastuu koronavirusinfektioon raskauden aikana. Koronavirusinfektio liittyy myös vakavampiin raskausdiabetesoireisiin.

Ikääntyneillä vasta-aineita ei kehity yhtä tehokkaasti omikron- ja beetamuunnosta vastaan. Eri mRNA-rokotteiden tehoissa on havaittavissa eroja.

Tuoreen tutkimuksen perusteella suuret CRP-tulehdusmerkkiaineen pitoisuudet liittyvät suurempaan masennus- ja mielialaoireiden todennäköisyyteen.
Kanta
In My Kanta Pages you can see your own
health records and prescriptions.
My Kanta Pages »
Duodecim
Duodecim – medical information for the
general public.
Duodecim »