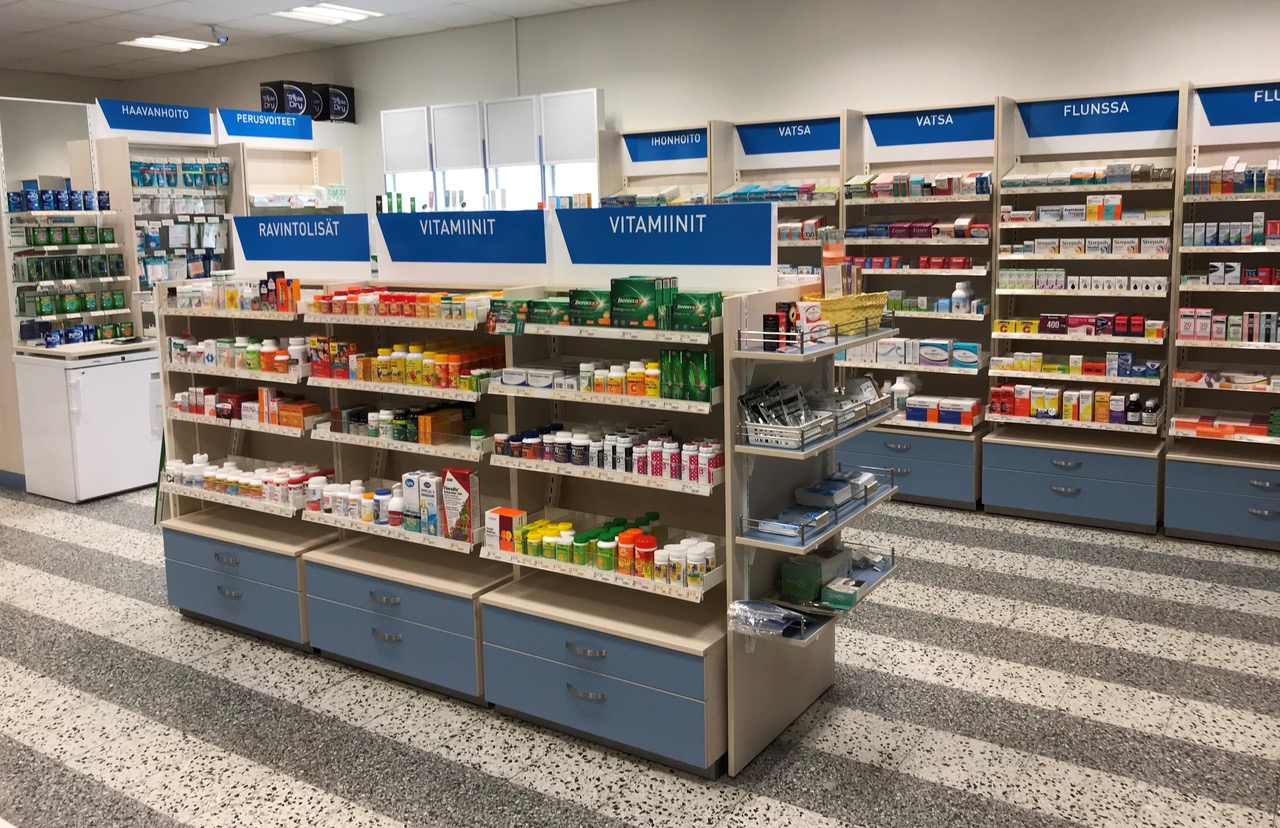 Services
Prescription medicines:
The most common prescription medicines are available at the pharmacy. Other medicines can be ordered if needed. This usually takes one day. 02-7215650.
Self-care medicines:
There's a wide variety of self-care medicines in the pharmacy. Other self-care medicines can be ordered without additional charge.
Renewal of prescriptions:
A request for the renewal of a prescription to a local health-care center can be done in the pharmacy without additional charge. You can also do it by yourself at omakanta.fi. Making a request for the renewal of a prescription on behalf of another person is only possible with
written permission or by authorization via Suomi.fi.
Prescriptions valid for one year can be renew within 16 months from the day of designation. Prescriptions valid for two years can be renew within 28 months from the day of designation. The renewal of a prescription may take up to 8 days. All prescriptions cannot be renewed in a pharmacy.
Automated dosage dispensing of medicines:
Automate dosage dispensing of medicines is particularly suitable for customers that use several medicines or medicines are taken many times a day. In dosage dispensing the medicines are dosed in bags that include medicines for a period of two weeks. The name of the customer, the names of the medicines and moments for the intake of medicines are printed in the dosage bags. The service has a cost.
---
Customers with an account:
It is possible to use an account for a customer when visiting pharmacy on behalf of another person. An account can be used for the customers of nursing homes, companies, and associations. The pharmacy reserves the right to check the references of the customers.
---
Ships' medical stores:
Inspections and supplements of ship's medical stores can be performed according to Finnish regulations by the pharmacy.
---
Return of medical waste:
The pharmacy will accept medical waste when sorted out and packed according to local instructions. This includes fever gauges containing mercury, syringes, and needles from households. More information concerning the sorting of medical waste can be obtained from the pharmacy or by visiting this link.
---